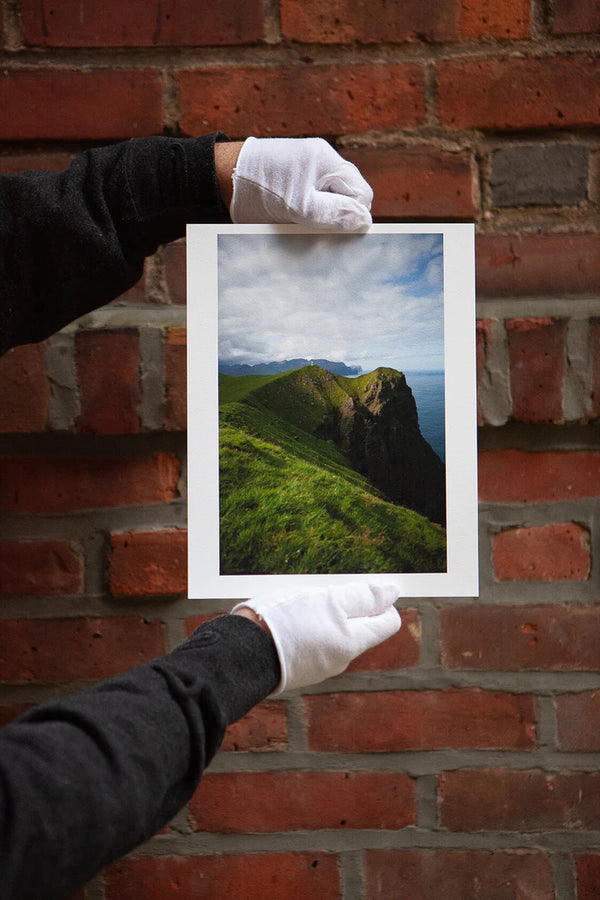 The Beauty of Giclée Prints
Elevate your home with museum-quality art
You know that feeling when you're flipping through Instagram and every influencer with a home decor account looks like a page out of a damn magazine? You look around the room, and suddenly it's like you're stuck in a mid-2000s time warp. Mismatched furniture you've collected from distant relatives over the years sits below sad wall art from Target.
As a homeowner, you want your space to reflect your personal style and aesthetic. Every detail matters, from furniture to wall decor. Empty walls can be a missed opportunity to express your unique taste and add personality to your home. And, if you're looking for the perfect statement piece to add to your home, there's one term you should know: giclée.
What is giclée?
You may have seen this buzzworthy printing technique on one of your favorite HGTV shows or the pages of your favorite design magazines. The correct giclee pronunciation is "zhee-KLAY," based on a French word that roughly translates to "spray" or "spurt." For those unfamiliar with the giclee definition, the French term refers to the giclee printing method involving squirting microscopic droplets of pigment-based ink onto archival quality paper or canvas, resulting in a highly detailed and vibrant image with a wide color gamut. The process was pioneered by printmaker Jack Duganne in the 1990s and has since become a popular and widely used method for creating modern wall art.
What is a giclee print?
A giclee print is a high-quality fine art print made with a professional inkjet giclee printer. These prints are often made on acid-free, archival paper with pigmented inks that are fade-resistant and can last for decades without fading or yellowing. Giclee printers are often used to reproduce artwork or photographs, and they are typically created in limited editions, making them highly collectible and valuable.
Unlike traditional inkjet prints that use dye-based ink cartridges, a giclee art printer sprays tiny droplets of archival ink onto acid-free paper or canvas, resulting in a high-resolution print with stunning color accuracy and vibrancy that can last for over a century without fading. The process may take longer than traditional printing methods, but the results are well worth the wait.
The benefits of giclee printing
One of the biggest benefits of giclée printing is its ability to produce high-quality prints that closely resemble the original artwork. This is partly due to pigment-based inks, which offer a wider color gamut and produce prints much more resistant to fading and other forms of degradation.
Another advantage of giclee printing is the ability to print on various sizes of acid-free, archival paper, designed to resist aging and yellowing over time. The combination of high-quality inks and archival paper ensures that your giclee print will last for decades without fading or deteriorating, making it a wise investment for any art collector.
Giclee on canvas
While some may be tempted to opt for a giclée print on canvas, we recommend sticking with traditional framed prints on archival paper for a classier, more sophisticated look. While canvas prints may be more affordable and accessible, they can often look kitschy and dated, especially compared to the higher quality of a giclée print on archival paper. Plus, giclee prints on high-quality paper won't run the risk of cracking, fading, or warping that can occur with canvas prints.
The future of giclée printing
The inkjet printers used for giclee printing are specialized and expensive, and the quality of the ink cartridges and the printer itself is crucial to producing high-quality prints. Printers must also be calibrated to produce accurate colors and to ensure that the print quality is consistent throughout the print run. The process of printing a single giclee print can take several hours due to the high resolution and printing speed required to produce museum-quality prints.
Thanks to advancements in technology, giclee today has become faster, more efficient, and more affordable than ever before. With printing speeds that rival traditional offset printing and the ability to produce prints in high volumes with consistent print quality, giclée printers are quickly becoming a go-to choice for artists, galleries, and collectors around the world.
Why work with a master giclee printer?
At Patricia Barrett Studio, each piece is made to order using high-quality giclee printers using the latest technology and top-of-the-line equipment. From archival paper to pigment-based inks, we take great care to ensure that each print meets the standards of museum-quality, gallery-worthy fine art.
Working with a master printer is important for several reasons. First, a master printer has years of experience and expertise in the art of giclee printing. They understand the nuances of color and light and can bring out the best in your artwork. They also have access to the highest quality materials, such as archival paper and pigment-based inks, which ensures that your prints will last for generations.
Second, a master printer can offer valuable advice on the printing process and can help you make important decisions about paper selection, color correction, and overall print quality. They can work with you to bring your vision to life and ensure that your prints are a true representation of your artwork.
Finally, working with a master printer can save you time and money in the long run. By partnering with an experienced professional, you can avoid costly mistakes and ensure that your prints are produced efficiently and effectively. In short, working with a master printer is an investment in the quality and longevity of your artwork.
Invest in Museum-Quality Art for Your Home
Whether you're an avid collector or simply looking to add a touch of beauty and sophistication to your space, giclee prints offer a unique opportunity to showcase high-quality fine art in your home. So, why not invest in a stunning giclee print today and elevate your home's décor to new heights?