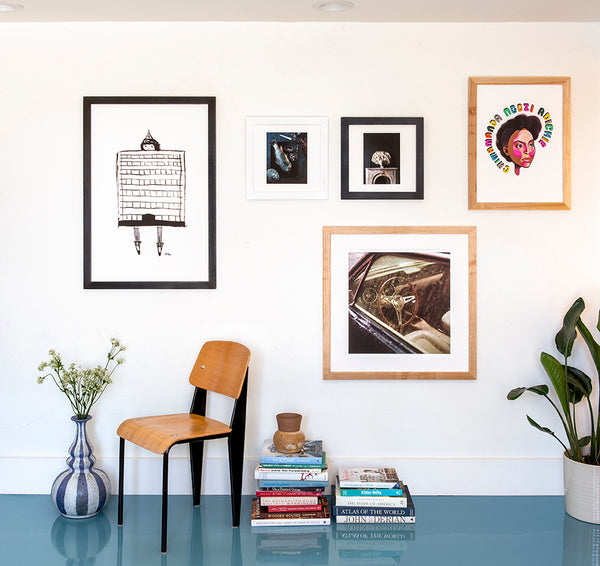 Wall art: Modern and timeless pieces to brighten your home
Hanging art on your walls is a fun and inspiring creative challenge. Here, we'll answer your most pressing questions to help you level up your wall decor.
There are many types of wall decor to choose from, and it can be challenging to know which is suitable for your home. Whether you love home decor or you're an experienced interior designer, limited edition fine art prints are a fantastic form of wall art that can boldly transform any space.
If the walls of our homes are a blank canvas, then why are so many of us meekly painting by numbers? Modern and timeless artwork adds color and dimension, allowing us to express ourselves and tie together the visual narrative of each space.
Of course, the art world can be intimidating, especially for novice buyers eager to jumpstart their collections. Planning the display of modern wall art throughout your home can seem daunting, but it doesn't need to be.
The truth is, with countless contemporary and timeless art pieces to choose from, you can't go wrong. You don't have to stick to specific rules or regulations when selecting art for your home.
Most importantly, remember that this is your chance to get creative — so don't be afraid to let your personality shine through the art you display.

What are the types of wall art?
Some of the most popular options are paintings, prints, and photographs. You can also select more unique options, such as a framed canvas, tapestry, mural, and three-dimensional art. The type of art you go for depends on your space and the look you hope to achieve.
How do you choose wall art for your space?
Wall art is a great way to personalize your home and add color to your walls. But how do you choose suitable artwork for your home?
Fine art prints are fantastic for those seeking to elevate their space with high-quality, beautiful artwork but don't want to break the bank. Original art can be the most expensive option simply because it is scarce. If an artwork only exists once, then only one person can own it.
On the other hand, prints can be reproduced in higher quantities, making them more affordable. However, there is a big difference in the quality of fine art prints. When purchasing prints for your home, be wary of print reproduction rights. Besides finding fine art prints that speak to you and fit well within your space, you should pay attention to the edition type.
Every image comes with reproduction rights, and most are open-edition, which means they can be reproduced in any quantity and medium, whether it's a canvas, t-shirt, or mug. When we think of open-edition prints, most people think of "tourist vacation" or "exit-through-the-giftshop." Open-edition prints might look great online, but they're usually made with lower-quality materials that deteriorate over time.
Limited-edition prints, on the other hand, are made with museum-quality archival materials and are restricted to specific quantities. Limited-edition fine art prints, like those found in Patricia Barrett Studio, are more valuable and come with print certificates to verify their authenticity. You won't find limited-edition prints at Walmart or in the tourist gift shop. Limited editions are often sold in high-end galleries and are the closest wall art you will find to original artwork without breaking the bank to get it.
Regardless of your personal preferences, you should consider the size of each wall hanging in relation to the size of your wall, furniture, and lighting. Some types of art can withstand direct sunlight, whereas others cannot. Most oil and acrylic paintings hold up well, whereas watercolors and certain types of photography are more vulnerable to fading. Many fine art prints use archival ink and fine art paper to last up to 200 years.
What are some suggestions for wall art for a living room?
When most people purchase art for their homes, they first think of the living room. That's because the living room is a central meeting place for guests and family to come together and enjoy conversations, bonding, relaxation, socializing, and entertainment.
Finding a statement piece to tie together the visual narrative of your living space is essential. Many homeowners are saving smaller pieces for hallways and other odd spaces. Splurging on large prints for your living room that captures your vision and makes it a reality is the best way to make a statement.
Still, consider you're entire home a blank canvas, and don't limit your art buying to the living room. Finding the perfect piece for your home office can create a calm background and a central focus. You can use wall art in a dining room to inspire conversations or paint a beautiful view. And for a true pro tip, consider framed art for your bathroom, where you'll most likely have the viewer's undivided attention.
When choosing what art to display, here are a few questions to ask yourself to help you get started:
What design aesthetics inspire you?
What kind of style do you prefer? Modern farmhouse, Scandinavian minimalism, or boho eclectic? Fine art that matches the style of your home, furniture, and lighting will help to create a cohesive look in your home. Don't be afraid to discover new ideas that will bring the empty walls in your home to life.
What colors are most prominent in your home?
The color and material of your walls and furniture can make a big difference in how your artworks are perceived. Consider the dominant colors within your home and how they will compare to the most prominent colors in the art you're considering. Also, consider the color of frames and borders before deciding what color paint to use on the walls.
Exposed brick and raw concrete work well with certain types of abstract art and black-and-white photographs. Suppose your collection varies significantly in the color spectrum. In that case, a good solution is to hang several eclectic pieces together on a white wall to minimize the interference caused by bright color backgrounds.
What size is your wall hanging space?
Framed wall art can be large or compact. Whether you're searching for big wall art to make a statement or smaller pieces you can assemble across a gallery wall, you'll want to choose wall art that fits the size of your space. Start by asking yourself, how much space do you have to work with? And, is your gallery wall big or small?
Regardless of the size, your chosen art should inspire you and allow you to share your personality with family, friends, and other visitors. Hanging beautiful artworks that you love will provide incredible enjoyment daily in the comfort of your home.
How extensive is your art collection, and will it grow?
The size and location of your home, living room, hallway, or office will likely change over time, and so will your art collection. If you're looking to move any time soon or purchase several artworks at once, you'll want to plan for those eventualities.
How do you hang wall art?
There are a few best practices to remember when hanging wall art. First, make sure you hang the art at the correct height, approximately eye level. You don't want people to have to crane their necks to see it. Second, ensure you hang framed artwork at the correct distance from the wall. You don't want it to be so close that it's touching the wall, and you don't want it to be so far away that it's falling off the wall. Finally, make sure the art is hung level. You want it to be level rather than tilting to one side or the other.
Hanging wall art in a straight line or a grid can help achieve a modern design aesthetic. However, the arrangement doesn't have to be centered, and you don't have to follow any official grid if you choose not to.
A successful pro tip if you have multiple pieces you'd like to hang on one wall is to lay your art out on the floor in front of the wall before you start hanging. Start by placing the most significant piece of art in the center (or slightly off-center) and place other smaller wall hangings around it.
Remember, this is your opportunity to be bold and use an odd number of works, mix oil paintings with graffiti art and black and white photos. Mix and match frames and even toss in a mirror or your favorite clock. It's your time to express yourself and your family, so go as elaborate or as simple as you want.
Do you have to spend lots of money on wall art home decor?
Yes, original artwork can seem expensive, especially to first-time buyers. However, there are many affordable options available if the cost is holding you back from adding art to your blank walls. But it can be challenging to know where to invest your time and money when it comes to purchasing fine art prints for your home.
Most wall art prints have open-edition reproduction rights, which means they can be reproduced in any quantity and medium. Open-edition prints are standard in gift shops and large department stores. You might see the same image printed on a framed canvas, a t-shirt, or a mug. Open-edition prints are typically less expensive, less valuable, and will most likely never appreciate. If the price seems too good to be true, it is most likely an open-edition print.
On the other hand, limited edition prints have restrictions around reproduction, so they can only be reproduced in one specific medium and a specific quantity. Where an open-edition artwork might be replicated hundreds of thousands of times, a limited-edition piece is restricted to only a few total prints. Limited edition prints are typically produced using museum-quality archival materials to ensure they last for hundreds of years and won't deteriorate over time. The higher-quality materials and relative scarcity of limited-edition prints compared to open-edition prints make limited editions slightly more expensive but much more valuable and more likely to appreciate over time.
Where can I find decently priced wall art?
Original art sold in New York City galleries has a reputation for being fabulously expensive. Still, you don't have to mortgage the family farm to find the perfect wall art for your home. There are many budget-friendly alternatives to buying expensive wall art.
Consider buying art online from around the world without leaving your seat. Popular online galleries, including Patricia Barrett Studio, produce high-quality, limited-edition framed art prints, which are perfect for nearly every space. Limited-edition prints are a popular alternative to one-of-a-kind original pieces that can be more expensive. Limited editions come with higher-quality materials than open-edition prints. Fine art prints that are limited are made with gallery-quality inks and are more scarce, making them more valuable to begin with and more likely to appreciate.
What do you look for when buying art?
Wherever you end up, remember that art is a financial and emotional investment. That stock print from Ikea looks great in every college dorm room, but it will feel out of place in your first home or apartment. Plus, cheap prints will likely last a few years before they deteriorate.
Choose timeless pieces that will increase in value over time.
If you're looking for modern and timeless pieces to brighten your space and be something you can continue showing off for the rest of your life, consider limited edition prints made with archival materials. Archival prints can last more than 200 years, and the fact that they're limited means they're more likely to increase in value because they're more scarce than open-edition prints.
When shopping for wall art online, find something you love and can't wait to hang on your walls. The best wall art is modern and timeless and becomes something you'll be happy to look at every day.