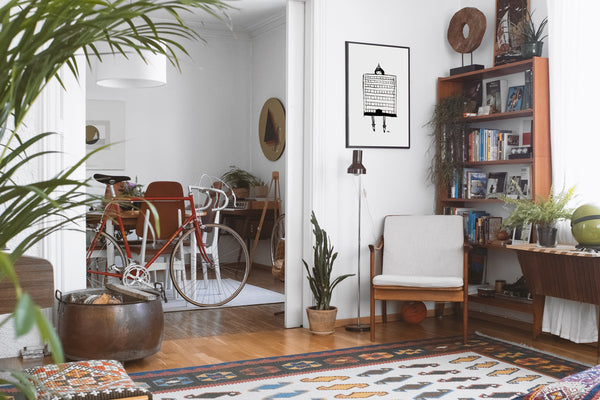 Boho wall art: Give your home that eclectic, laid-back vibe
How to create a cozy and comfortable boho-style space that shows off your vibrant personality.
Supermodels — they're just like us. Well, at least in one way, we learned upon seeing inside model Lily Aldridge's Nashville home: Some really love that eclectic boho look. Her home resembles an intimate jewel box filled with the kinds of gems, antiques, and one-of-a-kind artworks you'd expect to find in the world's best bazaars, mixed with punchy modern accents and timeless furniture.
Unfortunately, we can't steal Lily's looks, but we can steal her boho decor ideas. While we can only assume she had the benefit of working with interior design professionals and a (substantial) budget, there are several tricks we can learn and implement in our own boho style homes and apartments.
There's an undeniable allure around the idea of bohemian living. The boho aesthetic is all about good vibes and well-balanced spaces that bring out the best in us.
What is boho style anyway?
Boho style, short for "bohemian" style, is the third most popular interior design style, according to Architectural Digest. It's characterized by a relaxed, eclectic, and free-spirited aesthetic that incorporates everything from modern industrial pieces to global goods and surf memorabilia.
Overall, the boho style is an excellent option for creating a unique and personalized pad. Whether you're drawn to rich colors, bold patterns, or natural materials, there's something for everyone in the world of boho design.
What is boho wall art, and why should you consider adding it to your home decor?
If you're looking for an exciting and unique way to add some personality to your home décor, boho wall art may be just what you're looking for. Boho art is characterized by its eclectic and free-spirited style, which can add a touch of bohemian flair to any room.
Here are some reasons why you might consider incorporating boho wall art into your home:
It's versatile: Boho art is incredibly versatile and can be adapted to suit any living space, from a cozy studio apartment to a sprawling family home. With its emphasis on mixing and matching color palettes, patterns, and textures, you can create a unique and personalized look that reflects your style.
It's eclectic: Boho style is all about combining different elements from various cultures and design styles to create a layered and dynamic look. It's a great way to showcase your interests and travels and give your space a sense of personality and character.
It's relaxed: Nothing says "laidback cool" like bohemian wall hangings. There's just something about boho style that creates a comfortable and relaxed atmosphere in your home. With its soft textiles, natural materials, and inviting textures, you can create a cozy and welcoming environment that encourages guests to kick back and relax.
It's sustainable: With its focus on handmade and recycled pieces like woven baskets and vintage treasures, the boho framed wall art style is a great way to support local makers and small businesses while promoting sustainable and eco-friendly design. It helps create a space that looks not only good but also feels good.
Adding wall art to your home is a great way to express your unique style, and it can also help to create a relaxed and comfortable atmosphere. So if you're looking for a way to add some personality to your decor, consider adding some boho wall art to your home.
How do you choose the right boho wall art for your home?
Here at Patricia Barrett Studio, we talk about decorating struggles — All. Damn. Day. Everything from small space layouts to the best rug size (to tie the room together, of course) to where to hang your art (answer: pretty much anywhere).
But there's no math equation to help you design the perfect living room, bathroom, or hell — any room. Unfortunately, that means a whole lot of trial and error has to happen before we experience that coup de grace.
Work with a home design expert.
On the other hand, San Francisco–based decorator Lauren Nelson consistently (and effortlessly) delivers on the coveted cool-and-relaxed boho style in the rooms she designs. "I always pay close attention to the natural light in the space and choose textural elements and wall art that complement and enhance it," says the designer. The key to creating a quintessential West Coast home, she notes, is keeping comfort and ease of livability at the forefront of the design.
When it comes to choosing the right piece of boho wall art for your home, there are a few things to keep in mind. First, consider the size and shape of the artwork. You want to choose something that will fit in the space you have available, and that will complement the other boho decor in the room.
Bohemian wall decor typically features many bright colors and intricate designs, so make sure your chosen artwork doesn't clash. Finally, consider the overall vibe you want your home to have. If you want it to be more boho-inspired, then choose a piece of wall art that reflects that.
What are some excellent boho wall decor ideas?
If you're looking to add a boho touch to your wall decor, there are lots of great ideas you can try. One option is to use macrame wall hangings or woven wall baskets. You can also use embroidered or beaded fabric panels or colorful rugs or mats. If you want to go the DIY route, you can create wall art decorations by framing vintage textiles, posters, or maps or using decals, stencils, or even washi tape.
No matter what approach you take, adding some boho style to your walls is a great way to inject some personality into your space.
How can you create a cohesive color scheme with your boho wall art?
Creating a cohesive color scheme with your boho wall art can help tie together the overall look and feel of your space. Here are some tips to help you create a cohesive color scheme with your boho wall art:
Choose a color palette: Start by selecting a color palette you want to work with. Boho style works best with white walls because they help the eclectic pieces stand out. Consider neutral colors to create a balanced look without clashing. Some popular boho color palettes include earthy greens and browns, rich jewel tones, or warm and sunny yellows and oranges.
Use a color wheel: Use a color wheel to help you choose complementary colors that work well together. This can help create a harmonious and balanced look with your boho wall art.
Coordinate with your existing decor: Take into account the colors of your decor when choosing your boho wall art. Look for pieces that have complementary or similar colors to your furniture, textiles, and other decorative items.
Mix and match patterns: Boho style is about mixing and matching different patterns and textures. Look for boho wall art that features different patterns, such as geometric shapes, floral prints, or abstract designs, but be sure to keep the colors cohesive.
Group similar pieces together: If you have multiple pieces of boho wall art, consider grouping them to create a cohesive display. Arrange pieces with similar colors or patterns to create a visually pleasing display.
What are some tips for hanging large boho wall art?
Whether it's a one-of-a-kind tapestry or an original canvas print, here are a few things to keep in mind when hanging large wall art:
Make sure the wall is sturdy enough to support the weight of the art.

Plan out where you want to hang the art and use a level to make sure it's even.

Use appropriate hanging hardware, and make sure to use screws or anchors that can support the weight of the art.

Give the artwork plenty of space to breathe, and don't overcrowd the wall.
How do you care for boho wall art?
Boho wall art is a beautiful way to add personality and character to any room in your home. However, it is essential to care for your it correctly to ensure it looks its best for years to come.
First, when you are not displaying your boho art, it is best to store it in a dust-free environment. This can be a closet, storage bin, or a sealed bag.

Second, make sure to keep your boho art away from direct sunlight. The sun can fade the colors in your art over time, so it is best to keep it out of the sun's reach.

Third, if your boho art does get dusty, you can clean it with a soft brush or a vacuum cleaner with a soft brush attachment.
Following these simple tips will help you to care for your boho wall art and keep it looking beautiful for years to come.
Get started with your own boho art collection.
To be bohemian is to live an unburdened, unconventional lifestyle — one as part of a thriving community of like-minded people — celebrating the joys of creativity, love, and freedom.
This year, make a conscious choice to value art and self-expression over status and ego to unlock your bohemian spirit. There's never been a better time!
If you're looking for modern and timeless pieces to brighten your home, support local artists and check out the limited-edition prints available at Patricia Barrett Studio.