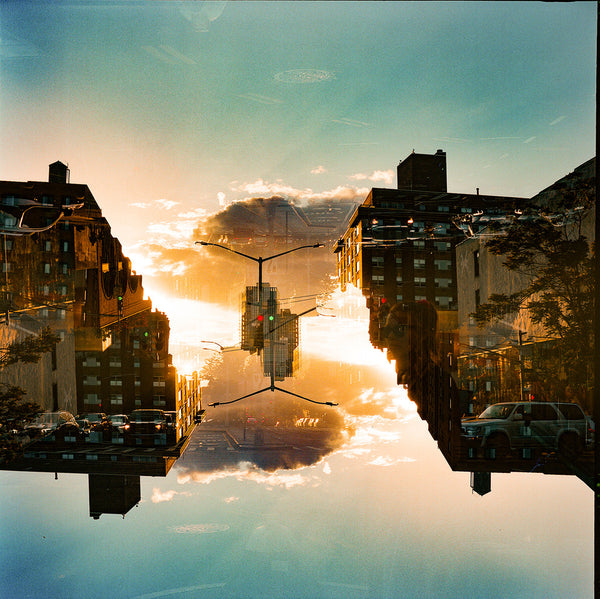 Artist Spotlight: Nathan Kraxberger and Breaking The Rules
As a commercial photographer shooting for renowned brands like Oscar de la Renta, Kate Spade, and the GAP, most of Nathan Kraxberger's professional work requires following rules.
While following the "rules of photography" has its merits–and has helped produce a vast portfolio of acclaimed pieces, he sought a way to create the same high-level imagery without rules. With that in mind, he picked up a film camera, and in his own words, "I began to find my way." 
Let's get to know Brooklyn-based photographer Nathan Kraxberger in anticipation of our upcoming release on November 7th! 
Roots & Still Life Photography
After earning a Bachelor's Degree in Psychology from the University of Georgia, Nathan Kraxberger discovered an interest–and talent–years later at The Portfolio Center in Atlanta, Georgia. In 2006, he moved to New York City and began his professional career in architectural photography. 
After assisting a prolific still-life photographer, Kraxberger found his passion. Over 15 prolific years later, he's shot campaigns, editorials, and e-commerce photography for some of the most well-known brands on the planet.
That includes arguably his favorite professional project, shooting the Pantone Color of the Year (Radiant Orchid) in 2014. 
"I've been blessed to have been part of many fabulous projects over the years," said Kraxberger. 
"Beautiful Chaos" & "Anything Goes"
Outside of the professional studio, however, Kraxberger found another passion–shooting on the streets of New York City, in his own words, "capturing the authentic moments that bring to light the heart of the city." 
Perhaps it's no surprise, therefore, that Kraxberger considers Vivian Maier and Gregory Crewdson, both of whom are known for their authentic photo-chronicling of American neighborhoods, among his biggest inspirations. 
While professionally he shoots in an exclusively digital format, personally, his camera of choice is almost always a medium format film camera.
"Every image I take is on film–and not edited in Photoshop (other than color balance & contrast)", he said. "While I have a vision for my photos, there are no rules and anything goes."
Many of Kraxberger's photos are double or triple exposures–meaning multiple images are captured on the same piece of film without winding the camera. 
"I might find the perfect first photo–in a double exposure–and then I find myself hunting for the perfect second photo," he said. 
"I like the freedom it gives me, and while not every photo is successful, some of my favorite images were created this way. I love the beautiful chaos that comes with these images."
"Do What You Love"
After a long and fruitful career both personally and professionally, Kraxberger has one poignant piece of advice for other artists: "Do what you love."
"For photographers," he said, "If you don't like shooting weddings, don't. If you don't like shooting products, don't. Find what you love to shoot and shoot that."
"I've been a commercial still-life photographer for over 15 years and I absolutely love it!"
Shop Nathan Kraxberger's limited-edition collection available exclusively with Patricia Barrett Studio
Get your hands on new, unreleased prints from Nathan Kraxberger, in collaboration with Patricia Barrett Studio! This unique, and one-of-a-kind collection of wall art is sure to brighten your home.
"Patricia has been great to partner with," he said. "Her passion for photography, and art in general, is contagious." 
"She's also a big fan of film photography, which means she understands my process, the challenges it brings, and the beauty when everything comes together. Most importantly, she's a good person and I like aligning with good people!" 
Keep your eyes open for these sweet new releases! 
View more of Nathan Kraxberger's work on his website, Pinterest, and Instagram.