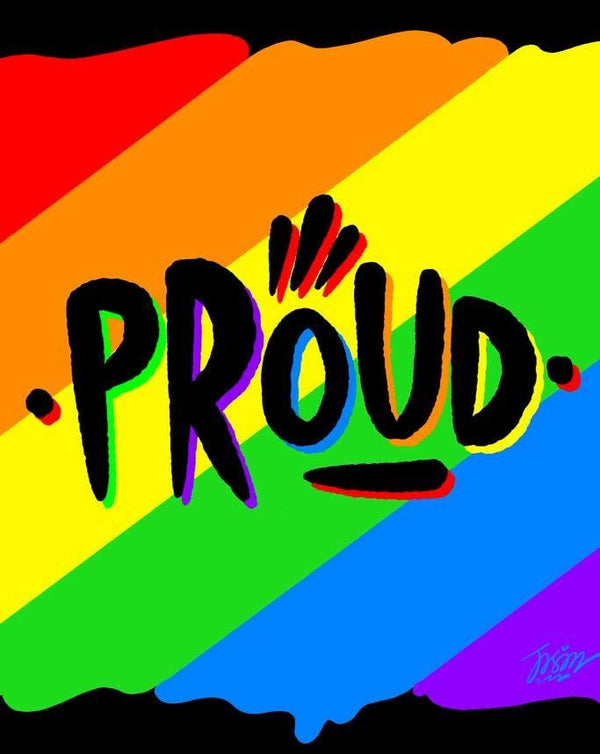 Artist Spotlight: Jason Naylor on Living Colorfully
Award-winning artist, designer, and creative director Jason Naylor is on a mission: to spread his own message of love, positivity, and color across the globe–and inspire folks to "live colorfully." Our upcoming collaboration print–Pride–exemplifies the spirit of his work, which is encouraging people to be themselves, as well as communicating allyship–especially for the LGBTQ+ community. 
Let's get to know a little bit about the man behind the artwork just in time for our upcoming collaboration next month!
Meet Jason Naylor
Jason Naylor has been an artist for as long as he can remember. "I don't recall a time when I wasn't creating or doing art of some sort," he said. "Growing up, it was always a part of my life. My mom was an artist, so we always had colored pencils and construction paper and I always did well in art classes in school." 
Upon earning his BFA in Graphic Design from Brigham Young University, Jason Naylor moved to Brooklyn and immersed himself in the life, color, and magic of New York City. Breaking into the industry in the creative department of M-A-C Cosmetics, he learned about the business of art and design and developed his love for spreading messages through large-scale, printed graphic art. 
"I did a lot of environmental graphics," he said, "and seeing them inspired me to want to do my own large-scale murals."
Excited by graffiti and street art, as well as the potential for creating his own environmental graphic work, he quit his job at M-A-C- Cosmetics to seek out mural opportunities.
Live Colorfully = Be Yourself
 "At the beginning," he said, "I had to paint for free and find opportunities where people would let me paint murals." He caught his big break with his first mural in Manhattan, a project that holds a special place in his heart. The message, "Live Colorfully," has become a branded message–and theme–around which a substantial portion of his work is built around. 
"There are more colors–millions–than the eye can even distinguish," he said. "Color, to me, is a word that represents individuality and uniqueness and specialness, and when I say 'Live Colorfully,' what I'm really saying is 'you can be yourself-and who you are is amazing.'" 
While the "Live Colorfully" mural in Manhattan is now gone, its prime location meant maximum exposure. "That mural resulted in me getting out there, getting seen, and finding more opportunities," said Naylor. "As I've honed the mission in my work and practice, I've evolved my work to a place where the is to communicate emotions and feelings to people using bright colors and using bold, large-scale designs."
Another project near and dear to his heart lives permanently on a billboard in Times Square. A global campaign with Sephora, the message, "We Belong to Something Beautiful," echoes the very sentiment of "Live Colorfully," which Naylor said is part of the reason Sephora wanted to collaborate with him. "It's pretty exciting for me to be able to go to Times Square any time and see that work," he said. 
Being an Ally
He's also part of an ongoing mural project called "You Are Not Alone." Every May, which is also Mental Health Awareness Month, he and artists around the globe paint the message "You Are Not Alone" on "as many walls as possible." Using a branded black, yellow, and white color palette, the goal of the project is to raise awareness for mental health–a cause that he's proud to champion. 
The project garners significant donations from both individuals and corporations, and all the money raised goes to NAMI (National Alliance on Mental Illness). Having lost his sister to suicide, the cause is more than important to him–it's part of his mission. 
"My mission of spreading love and positivity has expanded to include raising awareness for mental health and advocating for the LGBTQ+ community. It's not about me identifying as LGBTQ+, it's about me wanting to support anyone who wants to be supported. 
I have the capacity to put big messages out there and make a big impact that other people might not be able to do, so I want to use that to send messages of support and raise awareness." 
Pride
The message behind our upcoming print–Pride–is allyship. "It's also a way for me to show my allyship and continue the mission of my sister," Naylor said. 
"It's all about showing support, being a part of a community, and helping others to feel like they can belong and be an ally. It's about being who you are–celebrating that we can all be exactly who we are."
Working with Patricia Barrett has been an added bonus. 
"Working with Trish has been great because her work is so different from mine," he said. "As a photographer and as a printer, she brings a unique mindset and skillset to the table. Working together is great because it allows us to think outside the box and find synergy.
"In the Venn diagram of what we do (printing vs creating murals), that silver lining is the sweet spot of what we can do together. Collaborating with other artists helps you see where your strengths, limits, and boundaries are. It's good for artists to collaborate because it helps us grow." 
Shop the collection of limited-edition art to brighten up your place and live colorfully!
We plan to donate a portion of the proceeds to the Trevor Project to continue sharing our love and support!
You can see more of Jason's work at www.jasonnaylor.nyc or on Instagram at @jasonnaylor or Facebook at @jasonnaylorNYC!