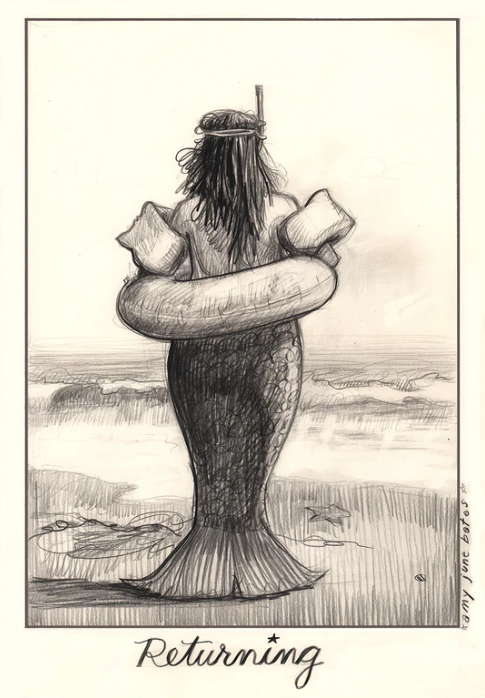 Artist Spotlight: Amy June Bates


There's no better way to describe the works of Amy June Bates than fun. The award-winning author and illustrator of celebrated Childrens' works like the The Big Umbrella and When I Draw A Panda creates works that perfectly capture what it's like to be a kid. Chock-full of vibrant color, childlike wonder, and authentic emotion, her work both helps show the power of drawing and gleefully entertains audiences young and old!
 
"I Don't Remember Not Doing Art"
"Art has always been a big part of my life," she said. "I don't ever remember not doing art." Coming from a family of artists, she grew up embracing all sorts of mediums. As she grew, so did her artwork. Notably, she said she always knew she wanted to illustrate books. 
After working for educational software company, she began freelance illustrating in 2001 and has since made it her career. She even got into writing her own works, publishing When I Draw A Panda in 2016. 
She got to collaborate with someone extra special on her critically-acclaimed 2018 work, The Big Umbrella. Her daughter, Juniper!
Amy finds it incredibly important for children to find their own creative spirit. The Carlisle, Pennsylvania native was featured in 2021 as a Dauphin County Library System Artist in Residence, where she shared her journey, creative process, and the fundamentals of drawing in spirited, interactive sessions. 
Child-Like Creativity 
It all comes from a distinctive, three-step creative process that guides her through each piece. 
The first step, what she calls "The Magpie Stage" involves observing, collecting, list-making, and admittedly, "incomprehensible notes!" 
The second step, "The Stream of Consciousness", involves bringing the ideas to life. During this stage, Amy says she "draws anything and everything that comes to mind", focusing heavily on body flow and movement. It's an abstract step – all judgment is prohibited–with fast drawings and creative freedom.
Finally, in the third step, what she calls "Mechanical", she takes the most exciting ideas and executes them. 
"The answers come in the process", she said. "I like the energy of feeling my pencil scribble out discovery."
She added one important tip for budding artists: "Don't wait!"


Mermaids
In her litany of celebrated works, like the Sam The Man and Beryl E. Bean series, the execution is flawless. 
Our upcoming collaboration, "Mermaids", takes it even further. While she admits working on her own books is loads of fun, she's extra excited about this work in particular. "Like a duet, this is a great opportunity for two people to bring out the best in each other."
But where did the inspiration come from?
"There is an old building from the 1700s in my town that has a weathervane with a mermaid on it," she said. "I started thinking about this mermaid being landlocked and not fitting into her surroundings and I identified with it a bit." 
"As I started this series, I began to see these drawings as humorous or poignant, but about finding your own individuality." 
In true Amy June Bates spirit, she added, "And mermaids are just a lot of fun!"
You can now purchase Amy's masterful work on our website!